August 24, 2022 | 4 minute read
Health educator, Stacey Kendrick recently spoke with Rima Arora, PharmD, RPh, Director of Pharmacy at DiRx about the challenges people are facing with getting the prescription medicines they need, and how DiRx is making it easier. Rima has 20+ years in the pharmacy industry, including both retail and manufacturing. She also has 15 years of experience as a Community Pharmacist for CVS Health.
First, we looked at the Kaiser Family Foundation's 2021 Employer Health Benefits Survey to get a better understanding of some of the trends in employer-sponsored health coverage. The 2021 survey included 1,686 interviews with non-federal public and private firms. It found some of the reasons Americans are having trouble affording the prescription medicines they need.
What are some of the most important points from the report that shed some light on why people are having trouble affording their medicines?
Rima: "The costs for health insurance and prescriptions have been skyrocketing, making it harder and harder for people to afford. The report highlighted that the average annual premium for employer-sponsored family health insurance coverage has increased 22% over the past 5 years and 47% over the past 10 years! And, because health care costs rose faster than wages in 2021, for example, lots of people are having to choose between things like food, shelter and medicine."
The report also highlighted that in 2021 only 49% of firms with 3-9 employees offered health insurance benefits. In addition, many workers were not covered by health care benefits because of the nature of their job. For part-time or temporary work status employees, there typically isn't a provision for insurance. In fact, among firms that offer healthcare benefits to employees, only 20% of all firms offered them to part-time employees in 2021.
Rima: "The good news is that even individuals that don't have health insurance or are underinsured can use DiRx for their prescriptions. We don't take health insurance. We work to keep the cost of our generic medicines low so that it's affordable, even without coverage. In our experience, even people with health insurance may find our direct price cheaper than it is with a copay. Plus, because we don't take insurance, those insurance or pharmacy benefit manager (PBM) denials that are so common and so frustrating are not a concern. With DiRx, all decisions are between you and your healthcare provider. And of course, the entire DiRx pharmacy team is there for help with every step of your medicine experience."
It seems like the pharmacy industry has gotten more complicated for consumers in the past few years. What are some of the frustrations you have been hearing from consumers during your years as a pharmacist?
Rima: "It has gotten harder for people to plan and budget for medicines, the way they do with other expenses. The cost for prescriptions fluctuates so that each time an individual goes to the pharmacy, they may pay a different price. At DiRx, we have several ways to help lock-in pricing so that people can plan for the expenses they will have. By choosing our auto-refill program, you can save time and money because you lock in the lowest prices and receive your orders automatically. It is a great choice for anyone on a budget, and for people who are busy. You'll never have to worry about renewing your medicine because it comes automatically."
Your health can benefit, too. Getting your prescriptions delivered automatically can help you stick to your treatment plan. A study found those who opt for mail-order prescription fulfillment have fewer emergency room visits in part because they're more likely to refill their prescriptions, as opposed to those who must remember to make time for a trip to the pharmacy to do so.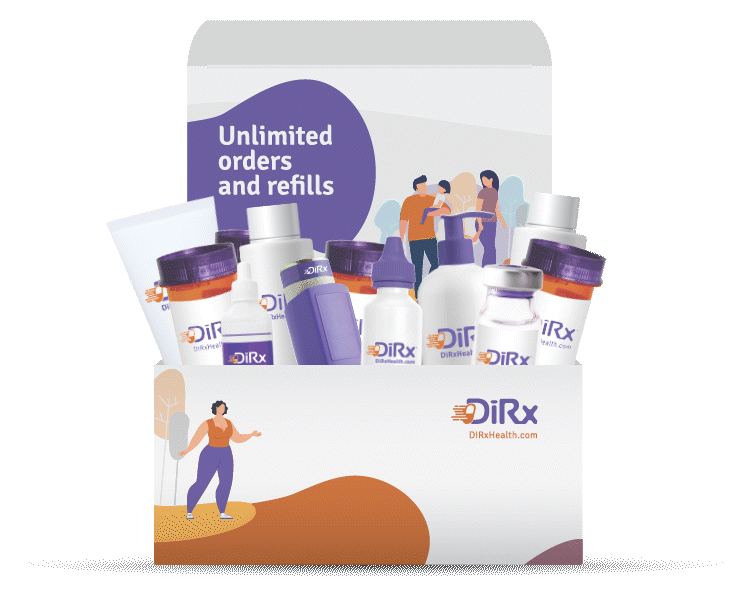 The Annual Savings Plan makes it easy to plan for medicine expenses; no matter how many prescriptions or refills you have. One single yearly payment gives you access to all eligible medicines at no extra charge. We've made sure that our eligible medicine lists include commonly prescribed generic drugs to maximize savings for our customers.
Rima: "If you have any changes in your medications or need a new prescription you can add it any time, if it is on the list of eligible medicines. It's easy for people to find out if their medications are included in the eligible list. There is no limit on the number of medications that can be ordered as part of the Annual Savings Plan. Just place your order and pay nothing. Our customers never have to experience the hassles I hear about when they must use coupons to get the best price, or are surprised by hidden fees that some other pharmacies sneak in. We strive to keep the experience of buying medicine simple and straightforward."
Learn more about the Annual Savings Plan and see if your medicines are included by visiting the DiRx website. All prescriptions on the plan are delivered to your doorstep for free. And our pharmacy team is always just a phone call away with extended pharmacy hours and 24/7 customer care. At DiRx, we've got you covered.