July 22, 2022 | 6 minute read
Health educator Stacey Kendrick recently sat down with Satish Srinivasan, Chief Executive Officer at DiRx to get his insights on the rising price of prescription medicine and how DiRx is making a difference.
Satish's entry into the digital health industry was a logical evolution of his 25+ years of experience in successfully building and managing multiple generic pharmaceutical businesses. As such, he developed a clear understanding of the prescription medicine manufacturer-to-market ecosystem and was able to pinpoint opportunities to disrupt the traditional flow, and enable access and affordability to more Americans in need. His academic background in Pharmaceutical Sciences and advanced degree in Pharmacy Administration further helped him find the right balance in blending the technical, clinical and commercial aspects of the pharmacy industry.
Satish, in your experience, how has the skyrocketing cost of prescription medicines affected Americans personally?
Satish: The rising prices of medicines have led to many people not taking their medications as prescribed because they just cannot afford them. Almost 30% of Americans do not adhere to their prescription regimen, due to cost. This has ultimately affected their health, as many are forced to choose between medicine and essentials like food or rent. Given the lack of adherence, people often get sicker, further increasing their needed prescription medicine expenditures. The larger health system expenses increase as well, when in reality all could have been avoided if there had been earlier intervention and adherence.
We started DiRx because we want to change that. I believe that everyone should have access to affordable medicine; it is central to the mission of DiRx.
Why are prices for medicine rising so much more rapidly than inflation?
Satish: While there are indeed global increases in material and logistics costs, one of the largest contributors for high prices is not directly related to the actual cost of the products. Rather it is additive effect of the distribution layers involved in the manufacturer-to-market path, and the fact that by in large, pricing is determined by how the costs of prescription drugs are reimbursed. Manufacturers produce the drugs and sell them to drug wholesalers, who then resell them to retail pharmacies through the framework of a reimbursement system managed by Pharmacy Benefit Managers. Each layer adds costs along the way and passes those added costs on to the consumer and/or payer. Given that a majority of generics are inexpensive, the system-driven costs added by the layers are often larger than the cost of the products themselves.
How is DiRx able to offer medicine that is more affordable?
Satish: DiRx is the first digital pharmacy company built by generic pharmacy industry insiders. That means we can directly source prescription products directly from manufacturers and skip the middleman in the distribution chain so that we can sell directly to consumers. This allows our customers to save up to 97% off retail prices that are most commonly found in the traditional system. We also work with a variety of self-insured employers, direct primary care clinics, benefit plan managers, non-profits and other community organizations who are looking for savings. Our case studies have shown that employers with over 1,000 employees could potentially save 30-40% on their current annual generic prescription costs by switching to DiRx.
Our direct sourcing + direct fulfillment approach is changing the way people think of a pharmacy, and it is making it easier for people to afford their medicines.
You mentioned earlier that generic medicine works the same as the brand name?
Satish: Generics have been around in the US and the rest of the world for decades and, by definition, they are bio-equivalent versions of the branded drugs approved by the FDA under strict approval protocols. Today, 90% of the prescriptions dispensed in the US are in the form of generics and this is a common theme around the world. Generic medicines are known to be safe, effective, and have the same active ingredients. Most work the same as the brand name, but they cost a lot less. Authorized generics are brand products, manufactured by the same company, on the same production line but with a different label.
Where do your medicine come from?
Satish: We only supply medicines that are FDA-approved. We source them from generic drug companies and their US-based locations. These are the exact same suppliers that are used by the larger pharmacy chains such as CVS, Walgreens, or Walmart. Just like any other industry (e.g.: cell phones, computers, cars), given the global nature of manufacturing and the focus on cost efficiencies, many of these companies have manufacturing locations in the US as well as at other global locations. Yet they all run here under strict supervision and approval of the FDA. We have built lasting relationships with reputable companies committed to quality production standards and all of our manufacturers strictly adhere to federal regulations.
Do you have any tips for consumers for the best ways to save on prescription medicine, in addition to buying from DiRx?
Satish: I have a few pieces of advice. First, ask your healthcare provider if your prescriptions can be filled with generic drugs, which are generally less expensive than their brand-name counterparts but are the same in terms of chemical composition, strength, and dosage. On average, generics cost 30 to 70 percent less than brand-name drugs yet are just as effective.
Secondly, if you decide to buy from an online pharmacy, always buy from a reputable source. You can save money on the drugs you take on a regular basis, especially for chronic conditions such as diabetes or heart disease, by ordering them through your employer's health plan online pharmacy prescription program.
Or you can buy directly from a website like DiRx. We don't ever ask for insurance, so anyone can use our services. By using an online pharmacy, you can often buy up to a 90-day supply of a drug for less than you would pay for three 30-day supplies at a retail pharmacy. Better yet, because your order is delivered to your home, you save time, you don't need to renew your prescription every month, and you don't need to make a trip to the pharmacy and wait in line to pick up your prescription.
---
Introducing the DiRx Annual Savings plan: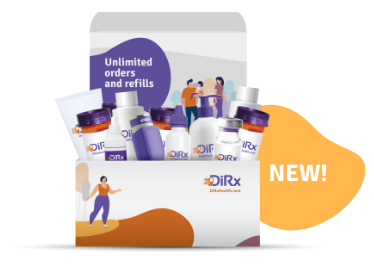 Whether you're taking a single costly medicine, or multiple prescriptions each month, the new DiRx new Annual Savings Plan may be just what you need if you're looking for ways to save even more on prescriptions.
Choose from over 1000 FDA-approved generic medicines

Get 100% of the cost of your medicine for one set price

Add new, covered medicines anytime, at no extra cost
As always, the plan includes the benefits of free standard shipping, extended pharmacy hours and 24/7 customer care that have so many people trusting DiRx for their prescription needs.
We've got you covered!
Learn More
* Some medicines are not available through the Annual Savings Plan but may be purchased individually.