May 16, 2023 | 3 minute read
The Centers for Disease Control and Prevention (CDC) define chronic conditions as diseases that last one year or more and require ongoing medical attention, limit the activities of daily living, or both. Managing these conditions presents a heavy burden, both emotionally and financially, for an estimated 25.7% of U.S. households impacted by chronic conditions. According to the CDC, chronic diseases are among the most prevalent and costly health conditions in the United States. In fact, as of 2021, six in ten adults in the U.S. have a chronic condition, and 4 in 10 have two or more chronic conditions. These conditions include, but are not limited to, heart disease, stroke, cancer, diabetes, and arthritis.

Managing chronic conditions generally requires ongoing medication and medical care, adding to the financial burden faced by individuals and the healthcare system. The cost of prescription drugs is no exception to the rising cost of living with some medications increasing in price by several thousand percent over the past two decades. According to a recent study:

A single prescription can cost hundreds or even thousands of dollars, and many individuals with chronic medical conditions require multiple medications to manage their symptoms and maintain their quality of life.
For individuals with insurance, the out-of-pocket costs for prescription drugs can still be significant. In some cases, insurance plans may not cover certain medications at all. And even more recently, many Americans are finding that their coverage has changed, and previously covered medications are no longer covered by their plan. For these underinsured or uninsured individuals, the cost of prescription drugs can be even more devastating. Without sufficient insurance to negotiate prices or provide discounts, many people are forced to pay the full cost of their medications out of pocket and are often unaware of the of the actual cost until after treatment plan has been prescribed and they've left their doctor's office.
According to a 2021 report by the Kaiser Family Foundation, the average annual prescription spending for individuals with chronic conditions in the United States was $6,690 per person. This is more than five times the average annual prescription drug spending of $1,220 per person for individuals not managing a chronic condition.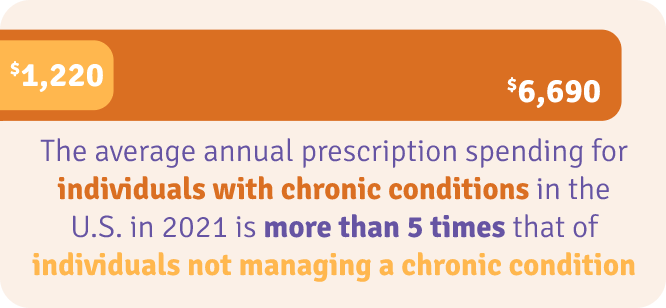 These expenses are often an insurmountable financial burden, particularly for those who are living on a fixed income or struggling to make ends meet. When patients cannot afford their medications, they may skip doses or may have no other choice than to not their prescriptions at all. This can lead to poorer health outcomes, increased hospitalizations, and ultimately higher costs for everyone that results in a financial burden for the healthcare system as a whole.
DiRx Founder and CEO, Satish Srinivasan has over 25 years of experience in successfully building and managing generic pharmaceutical businesses. Satish noted that one of the largest contributors for high medication prices was not related to the actual cost of the product at all but, the multiple distribution layers from manufacturer to consumer. He recognized a clear need for free market options; independent of the existing supply chains and payer systems, in order to lower the cost of prescription drugs for Americans.
Under the leadership and direction of Satish, DiRx was the first online pharmacy to bring generic medications directly to consumers, at a fraction of the cost, by cutting out the middleman. DiRx has worked to solve for both limited access and affordability for thousands of Americans today and continues to lead the charge to find savings to meet every prescription need. This includes providing some of the most commonly prescribed medications that support chronic conditions for up to ninety-seven percent off retail pharmacy prices – no insurance needed.
Search for your medicine