February 14, 2023 | 4 minute read
Each year, the month of February reminds us to pause and reflect upon extraordinary accomplishments made throughout history, against impossible odds, by determined African Americans.
James McCune Smith, MD, for example, had to enroll at the University of Glasgow Medical School due to racist admissions practices in the U.S., but ultimately became the first black American to receive a medical degree in 1837. Among his many other accomplishments in social justice and medicine, Smith was also the first black American to own and operate a pharmacy in the United States and the first black physician to be published in U.S. medical journals.
When considering all that Dr. Smith accomplished in his short 50 years, with his untimely death from congestive heart failure in 1865, and the strides made for the sake of medicine and social justice since – there really is no excuse for the health disparities that still exist within the African American community. In fact, according to the CDC, nearly half of all African American adults today have some form of cardiovascular disease including stroke and congestive heart failure – the very condition that cut Dr. Smith's life short nearly 160 years ago. What's more – it isn't the only area of health revealing disparity. Kidney disease. Diabetes. Cancer. Mental Health. These are just some of the health maladies that show disparity in risk, treatment, and mortality rates for black Americans. But, why?
Do genetics play a role?
While a higher occurrence of certain diseases and conditions among the African American community has long been noted – the "why" has historically been subject to theory, speculation and even some heated debate. Advances in science and continued research of the human genome are revealing more everyday about the role of genetics in the predisposition and susceptibility of disease. That includes a recent study funded by the National Institute on Minority Health and Health Disparities noting a higher expression rate of genes in the liver cells of individuals of West African ancestry that are known to reduce ability to break down certain drugs and increase susceptibility to certain diseases. While we continue to dive deeper into genetic predispositions and understand the role they play, we must also acknowledge the geographical and socioeconomic factors that impact disparities as well.
Does coverage equal access?
According to the Kaiser Family Foundation (KFF), a nonprofit organization that focuses on national health issues and the role of the United States in global health policy, it most certainly does. They recently evaluated Health Coverage by Race and Ethnicity from 2010-2021. The report noted that, while there were large gains in coverage in minority communities from 2010 to 2016 due to the Affordable Care Act, black Americans remained more likely to be uninsured. Domestic policy and the COVID-19 pandemic resulted in fluctuations across ethnicities in the five years following 2016, but 2021 still found black Americans to be 1.5 times more likely to be uninsured than white Americans. As noted by the KFF "People of color have faced longstanding disparities in health coverage that contribute to disparities in health".
Does zip code matter?
Food deserts are not a new concept in the conversation of health disparities and are defined by the USDA as a neighborhood with an average distance of one mile or more to the nearest supermarket or grocery store; resulting in limited access to fresh foods. Pharmacy deserts follow the same definition and are of equal concern in both urban and rural areas. Convenient access to retail pharmacies has been acknowledged as a contributing factor to ethnic health disparities but perhaps more alarming is the rate by which pharmacy closures are occurring across the United States. This is especially true in urban areas accounting for approximately 80% of the Black and Latino populations. One recent study concludes that "addressing disparities in geographic access to pharmacies—including pharmacy closures—is imperative to improving access to essential medications and other health care services in segregated minority neighborhoods."
Removing barriers to access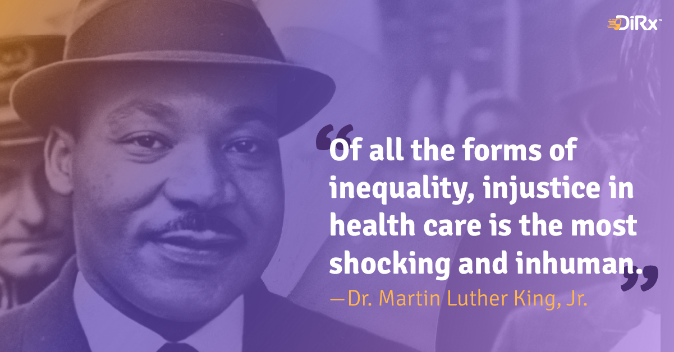 Speaking at the Convention of the Medical Committee for Human Rights in Chicago in March of 1966, Dr. Martin Luther King said it best when he declared: "Of all the forms of inequality, injustice in health care is the most shocking and inhumane." DiRx was founded on a mission that echoes this sentiment by committing our work to provide affordable medicine for all. As our Care and Pharmacy teams work closely with Americans every day, desperate for an affordable solution, we recognize that barriers to access are a national problem; not limited to any individual race or region. So many of these barriers can be eliminated with direction, coordination and focus.
DiRx has remained on the forefront to remove barriers in the industry and create a free-market solution, independent of insurance and other factors that directly drive-up costs, to provide affordable medicine for all Americans. With pharmacy deserts spreading like wildfire in critically impacted neighborhoods, a nationally licensed and affordable mail-order option was both timely and necessary when DiRx launched in August of 2021. By providing the same FDA-approved generic medications filled by the nation's largest drugstore chains, but at a fraction of the cost and delivered with free shipping, tens of thousands of Americans are already benefiting from more affordable access with DiRx – no insurance, long lines or transportation necessary.
While these are small steps in working to eradicate inequality in healthcare, we're thankful for progress and committed to affecting lasting change. In celebration of this Black History Month, we honor the incredible strides of trailblazing Americans like James McCune Smith, MD and Dr. Martin Luther King for their contributions to social justice and medicine alike. May we all unite to eliminate disparities and prioritize fundamentally human rights such as health more quickly.
Remember February is American Heart Month, too
Take care of your ticker with these low prices
Remember February is American Heart Month, too
Take care of your ticker with these low prices
Shop all heart health medicine
DiRx is a nationally licensed online pharmacy with a mission to make medicine affordable for all. No insurance needed. Always free shipping.