November 16, 2022 | 5 minute read
We can all agree that the relationship with our healthcare providers is important to our overall health. Providers, with our input, make decisions about our care including the medicine we should take and the treatments we should receive. However, much to the frustration of patients and providers, more and more treatment and care decisions are affected by insurance coverage. Perhaps you take a diabetes medicine that has been working well for you, but now your insurance company decides it is no longer an option through your coverage. This is a common scenario. Providers are being forced to make care plans based on what a plan will cover, not what is best for the patient. In this season of open-enrollment, while many organizations and families are making crucial decisions about healthcare coverage, it's important to note the changing landscape and the non-traditional options you have access to.
An innovation in healthcare, called Direct Primary Care (DPC) is helping providers to support patients without the constraints of insurance requirements. This new healthcare model is one in which physicians partner directly with their patients to supply primary care services under a flat, periodic membership fee. Typically, the membership fee allows you unlimited office visits at no added charge, plus blood tests, pathology screens, X-rays, MRIs, and other services for an affordable, cash price. Some DPC practices also dispense medications in-house at near-wholesale prices, so you both save money and avoid extra trips to the pharmacy.
By moving outside of the traditional insurance-based billing system, DPC practices are now able to provide patient care that is affordable for everyone. This new model is intended to restore the patient-physician relationship without the challenges associated with insurance. Providers aren't the only segment of the health care to transition out of a insurance-based system. Free market solutions are growing in popularity as patients realize the benefits as discussed by Mandy Connell in a recent iHeart podcast with Pinnacle Advanced Primary Care doctors and Satish S., DiRx founder and CEO.
Direct-sourcing pharmacies take a similar no middleman, no insurance approach to pharmacy and DiRx is paving the way.
Traditional pharmacy benefits, in an insurance-based system, often rely on a third-party Pharmacy Benefits Manager (PBM) to negotiate with drug manufacturers and pharmacies to determine which medications are covered in any given plan. The role of the PBM is to manage the prescription drug benefit and control costs for the payer which can ultimately influence which medications people have access to and what their out-of-pocket costs will be.
Prescription medications are no exception to the soaring costs of living plaguing Americans today and this is not lost on the providers that care for them. Providers must take into consideration a patient's ability to access and afford the medications recommended in their care plan. Even medications covered in their plan may be subject to denials, refill limitations or sudden price increases, at the discretion of the PBM, making it impossible for many Americans to adhere to their care plan. These factors often affect a providers ability to recommend the best treatment or care.
This is where DiRx comes in. As a direct-sourcing pharmacy, we source our medicines directly from the manufacturer and we don't work with insurance. This means the decisions about what medicines you take can stay where they belong; between you and your provider. And we work hard to keep the cost of our generic medicines low so that they are affordable, even without insurance coverage. In our experience, many people find our everyday cash or self-pay prices cheaper than their insurance copays. Plus, because we don't take insurance, those insurance or PBM denials that are so common and so frustrating are not a concern. Individuals taking a costly maintenance medication or multiple prescriptions every month are finding our Annual Savings Plan may be right for you. With this plan, you pay one flat annual fee that covers all your medicine, with unlimited orders and refills for any medicines that are included in the qualifying list for your plan. With your healthcare provider and support from DiRx, you can focus on what matters most; your health.
As you finalize your healthcare coverage for the coming year, keep in mind that one of the greatest benefits of direct healthcare models, whether it be a primary care provider or a direct-sourcing pharmacy like DiRx, is freedom of choice. Neither of these healthcare innovations are mutually exclusive with existing health insurance benefits and can be approached as standalone coverage or an added layer to improve cost, quality of care, and to keep your healthcare decisions between you and your provider – where they belong.
Learn more about our Annual Savings Plan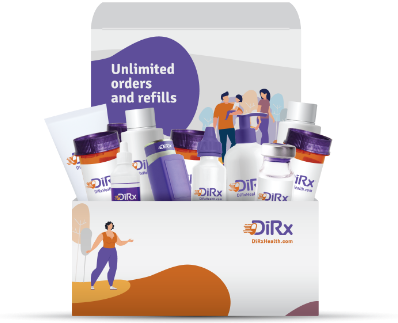 Whether you're taking a single costly medicine, or multiple prescriptions each month, the DiRx Annual Savings Plan may be just what you need if you're looking for ways to save even more on prescriptions.
The DiRx Annual Savings plan:
Choose from over 1,000 FDA-approved generic medicines

Get 100% of the cost of your medicine for one set price

Add new, covered medicines anytime, at no extra cost
As always, the plan includes the benefits of free standard shipping, extended pharmacy hours and 24/7 customer care that have so many people trusting DiRx for their prescription needs.
We've got you covered!
Learn More
* Some medicines are not available through the Annual Savings Plan but may be purchased individually.